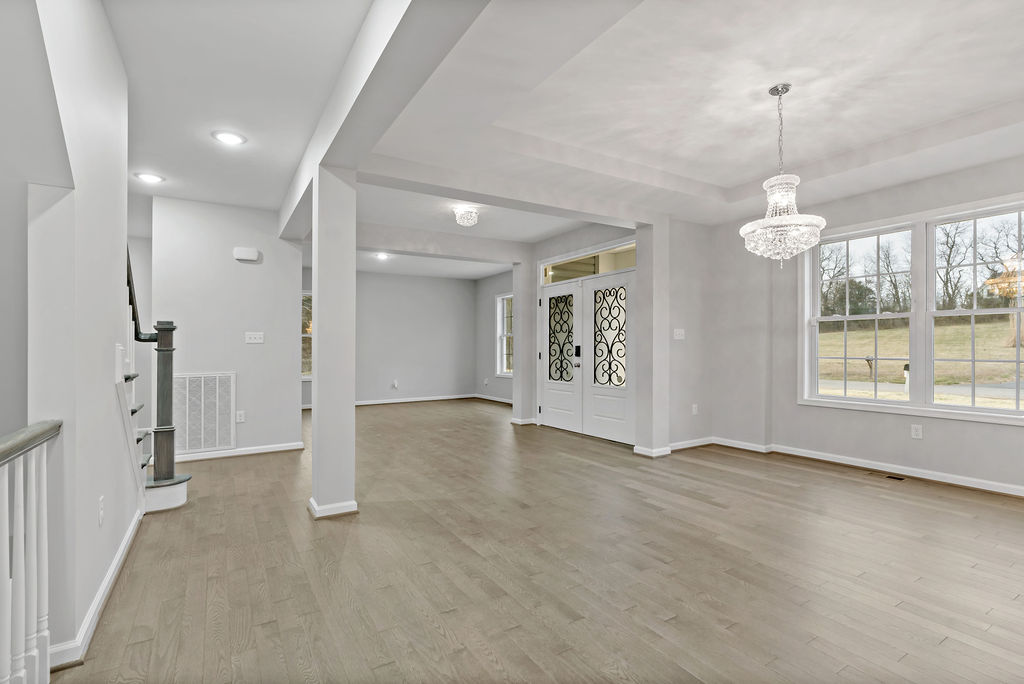 Build Your Dream Custom Home With Us
At Triple Crown Construction, we understand the importance of creating a home that's tailored to your unique needs, preferences, and lifestyle. With our team of expert builders, architects, and designers, we're committed to helping you bring your dream home to life, while ensuring the highest quality construction and materials.
Why Choose Triple Crown Construction for Your Custom Home?
As an experienced custom home builder, Triple Crown Construction is dedicated to providing you with a seamless, enjoyable, and stress-free home building experience. Here are a few reasons to choose Triple Crown Construction for your custom home project:
Expertise and Experience: With years of experience in the custom home building industry, our team has the knowledge and expertise to guide you through every step of the process, from initial design to the finishing touches.

Personalized Service: At Triple Crown Construction, we pride ourselves on our commitment to personalized service. We understand that each client is unique, and we work closely with you to understand your vision, needs, and preferences.

Quality Craftsmanship: Our team of skilled craftsmen is dedicated to delivering the highest quality workmanship, using the best materials and construction techniques to ensure your home is built to last.

Attention to Detail: We believe that the smallest details can make the biggest difference in your custom home. Our team pays meticulous attention to every aspect of your project, ensuring that your home is a true reflection of your unique style and taste.

Sustainability and Energy Efficiency: Triple Crown Construction is committed to creating sustainable, energy-efficient homes that are not only beautiful but also environmentally responsible. We can help you incorporate eco-friendly features and materials into your custom home design, ensuring a lower carbon footprint and long-term cost savings.
Ready to Start Building Your Dream Home? If you're ready to start building your dream custom home, contact Triple Crown Construction today. Our team of experts is ready to help you design a home that's perfectly tailored to your needs, preferences, and lifestyle. Let us help you bring your vision to life and create a home that you'll love for years to come. Call us today at (555) 123-4567 or visit our website at www.triplecrownconstruction.com to learn more about our custom home building services and to schedule a consultation.
The Leading Choice for Custom Home Builders Martinsburg
Welcome to Triple Crown Construction, the leading custom home builders in Martinsburg, West Virginia. We're not just another team of contractors; we're expert craftsmen committed to building quality homes tailored to your lifestyle. If you've ever asked, "How many home builders in Martinsburg, WV, can truly bring my vision to life?" you've finally found your answer.
What Does Custom Mean in Homebuilding?
In-home building, 'custom' means creating a unique house designed specifically for the homeowner. Unlike most builders, Triple Crown Construction, your trusted custom house builder, does more than just construction jobs. We bring dreams to life, incorporating every detail you desire in your new house.
Understanding the Five Stages of Building a House with Triple Crown Construction
Wondering, "What are the 5 stages of building a house?" Here's the answer. As your chosen custom home builders Martinsburg, we take our job seriously. To make your dream house a reality, we follow these steps:
1. Project Initiation:
First, we get to know you and your dream for your own home. We discuss your likes, needs, and wish-list items for your new house. You share your vision, and we listen. We then provide you with different floor plans so you have multiple options. This is the first big step in making your custom home.
2. Design:
Next, our team, like artists with a blank canvas, creates a custom home design just for you. This isn't just any home construction; it's your custom home project tailored to your family's lifestyle. We make sure that the design of your new home aligns with your wishes, from the number of rooms to the style of the kitchen.
3. Construction:
This is where the real fun begins. Our team of builders gets to work, turning the design into a real, custom-built home. They're not just contractors but expert craftsmen who love their job. Each brick laid, each wall painted, and each fixture installed is done with care and skill.
4. Finishing:
Our custom home renovations team steps in once the main construction is complete. They're like the elves who add magic to your new custom home. They work on the final details, making sure everything is perfect. This could be adding shiny knobs to your cabinets or ensuring the light fixtures are just right.
5. Delivery:
Finally, the most exciting step! Once everything is done, we hand you the keys to your perfect home. This isn't just any new home but a custom-built house created especially for you. The feeling of unlocking the door to your dream home for the first time is truly special.
Each stage of our process at Triple Crown Construction is geared towards one goal: building your perfect home in Martinsburg, WV. You dream, we build. It's as simple as that.
Why Choose Triple Crown Construction as Your Custom Home Builder?
Expert Craftsmanship: We blend quality materials and expert craftsmanship to build homes that stand the test of time.
Personalized Approach: We treat each project individually, understanding that every family's dream home differs.
Professionalism: As a reputable general contractor Martinsburg, our professional team values clear communication and timely delivery.
Home Additions: Need to extend your living space? We also provide home additions Martinsburg, delivering the same level of detail and quality as in our custom home projects.
For builders in Martinsburg, WV, you can trust Triple Crown Construction, your reliable custom home contractor. We're passionate about making your dream home a reality in the beautiful Eastern Panhandle of Berkeley County.
Are you ready to own a home designed to suit your every need? Contact Triple Crown Construction today, and let's begin the journey of building your perfect home together. We're not just a company but a partner that brings expertise, professionalism, and passion to every project.